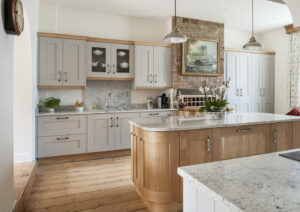 Whether you are designing a new kitchen or revamping an existing one, your choice of kitchen cupboard door handles can have a big impact on the style of a room.
With many options to choose from it can be very overwhelming to choose the best style for your kitchen. To aid in the specification process, we have created a simple guide on the four types of kitchens handles to help you choose the best handle for your kitchen cupboards and drawers.
Pull Handles
Pull handles are a popular choice in all types of kitchens due to their enhanced grip and easy operation. Designed with two fixing points, pull handles can be installed horizontally or vertically to suit kitchen cupboards and drawers.
For modern kitchens, T bar handles are a popular choice due to their angular, sleek style. Alternatively, opt for bow handles with a curved and slimline design for traditional and contemporary kitchens.
Kitchen pull handles are available in many different lengths to cater for various hole centers. If retrofitting pull handles to an existing kitchen, ensure you measure any existing fixing holes and specify handles of a similar size to hide any unsightly marks. Read how to measure for kitchen cabinet handles here.
The Finesse collection of pewter kitchen handles offers unique and innovative designs to suit a wide variety of kitchens. Handmade from solid pewter, the Finesse range offers extremely high-quality products with a stunning, natural finish. View the Finesse kitchen handle range.
Cupboard Knobs
Cupboard knobs are the perfect finishing touch to bring character and charm to kitchens with a minimalistic style. Ideal for kitchen cupboards and drawers, cupboard knobs are designed with one fixing point to allow for quick and easy installation. To bring a bespoke look to your kitchen, use a combination of cabinet knobs with pull handles or cup handles.
The kitchen cabinet knob range by Finesse offers a variety of cupboard knobs in many shapes, sizes and styles to suit modern and traditional homes. Shop Finesse cupboard knob range here.
Cup Handles
Kitchen cup handles are becoming an increasingly popular alternative to pull handles to bring a timeless and elegant feel to kitchen cupboards. Ideally suited to both traditional and contemporary kitchens, cup handles look great when paired with shaker-style cupboards and drawers.
Cup handles are extremely easy to operate and clean – designed with an upside-down cup to be gripped from the underside of the handle.
The Finesse range of cup handles have been designed in round and squared styles to suit various décor schemes. Browse our cup handle range here.
Bar Handles
Make a bold statement in your kitchen with bar handles. Typically designed with larger hole centers compared to pull handles, bar handles are often chosen due to their large size and ease of grip.
View the range of Finesse pewter bar handles for a natural look and feel. Browser our wooden bar handles and leather bar handles – great for bringing texture and style to the home.
Ready to get started? Shop our range of kitchen cupboard handles here. If you have any further questions, please give our customer service team a call on 01207 593528.