Do you want to update your kitchen without committing to the expense of a full redesign? You can give your kitchen a new lease of life on a budget by simply changing your kitchen cabinet handles.
When browsing for new kitchen cupboard handles, there are many styles to choose from:
Pull Handles – typically straight bar handles with two fixing holes which can be installed horizontally or vertically
Cup Handles – kitchen handles enclosed at one side to allow for enhanced grip. Typically used on cupboard drawers
Cupboard Knobs – available in a range of shapes, cupboard knobs are designed with a single fixing point. Can be used on drawers and cupboards
If retrofitting cupboard handles to an existing kitchen, you may opt for the same style previously used to conceal any preexisting fixing holes. For pull handles and cup handles, it's important you know the existing fixing centers in order to correctly specify the most suitable handle. For new kitchens, the style, fixing centers, and handle length is down to the customer's preference.
What Are Fixing Centers?
Fixing centers (also known as hole centers) is the measurement between the center of the two fixing points located at the back of the handle. This dimension is not to be confused with handle length which is the total length of the handle. The most common fixing centers are 96mm, 128mm and 160mm.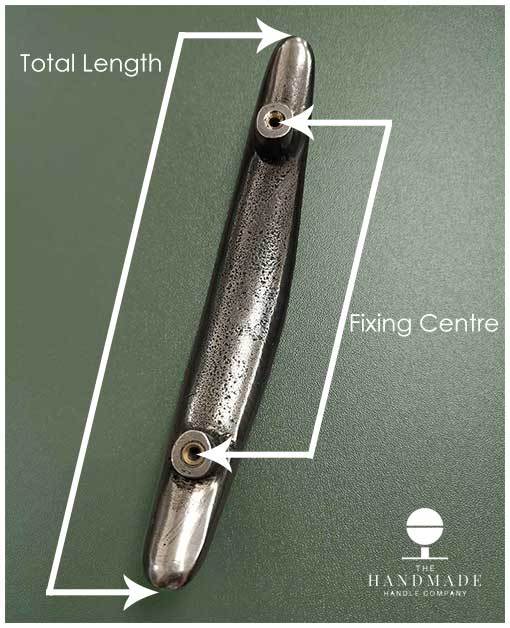 How To Measure Fixing Centers
To accurately measure existing fixing centers, open your kitchen door or drawer and measure the distance between the center of each screw. This measurement should be used when specifying your new handles.
To find the most appropriate handle for your application, you can filter our wide range of pewter pull handles and pewter cup handles by fixing centers.